450,000 Available Products

We carry pretty much any replacement part that you will need!

In Business Since 1962

We are a second generation family owned business.

Free Shipping

On most orders over $1000.00
100% Satisfaction Guarantee
New Englandís Leader in the Refuse Equipment Industry
Sanitary Equipment is a second generation family own business with 48 years of experience. We offer Truck and Body Sales, Compactor & Baler Parts, Hydraulic Service and More! Our team of experts is committed to first class service and prompt attention to your needs.
Product Spotlight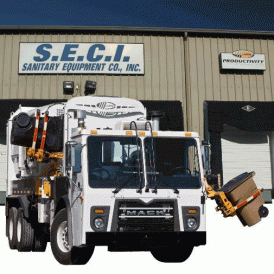 Click here to zoom
Expertô 2000 Dual Helping-Hand - Side Loader
The EXPERT(t) 2000 Helping Handô is a drop frame, side loading unit perfectly adapted for manual or fully automated refuse or recycling collection operations on both sides. Also, if you have one way streets, the operator will always be in the same direction than the traffic.

Versatile with Optimized Unit Ownership

The EXPERT(t) 2000 Dual Helping Handô is one of the most versatile units available on the market. Any municipality or private hauler that needs to pick up bags curbside or street side will still have the right unit for the job when switching to an automated collection program. This units fulfills the industryís evolving demands for years to come.